House clearance services in London & Surrey. If You need any kind of House clearances, garage, basement, whole house or office, please fill in the following form. House clearance don't need to be stressful if they're managed carefully. Whether you're clearing the home of a deceased relative or preparing a property for sale or lease, we can provide the service you require.  At Clear The Lot we aim to make your house clearance as hassle free as possible from start to finish.  We take everything from old furniture, broken appliances, bric-a-brac, mattresses, carpets, curtains and much more.
Our polite and articulate staff will respectfully clear and responsibly dispose of all household effects. Our staff are made up of experienced professionals, who will give you a clean and tidy finish. We always ensure our customers receive a first class service and are fully satisfied. We provide a clean, efficient house clearance service at a competitive price. We will talk through the job with you and if we can offset any cost by purchasing saleable goods, we will discuss this with you.  There are a minimum of two men on each clearance, so you don't need to self-load! Contact us on 0203 323 0017 / 07734 678923 or email info@clearthelot.com or fill in the following form.
House & Flats
Basement, Loft, Shed and Garage Clearouts
Furniture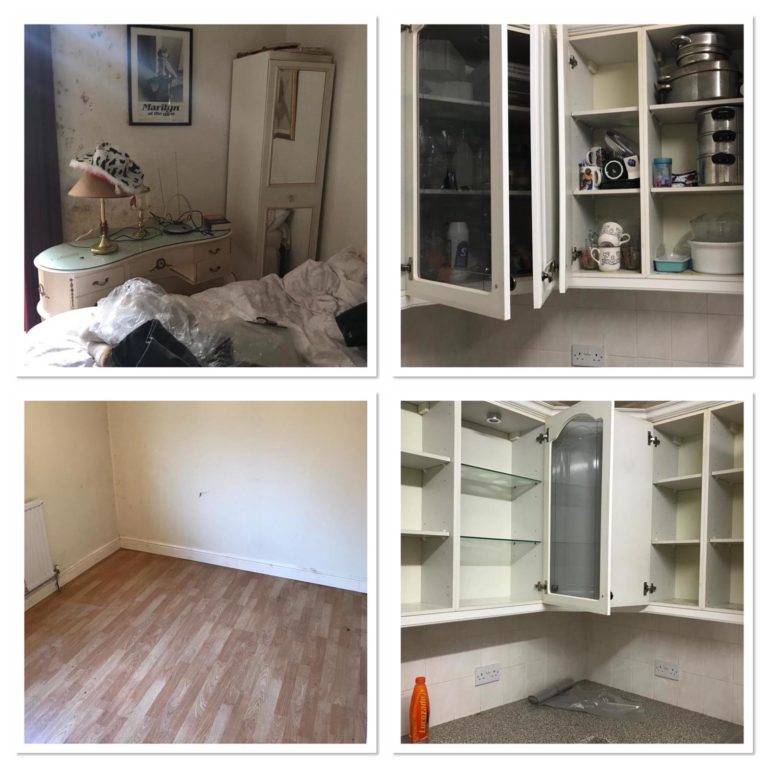 White Goods
Clothes
Fire Safe Soft Furnishings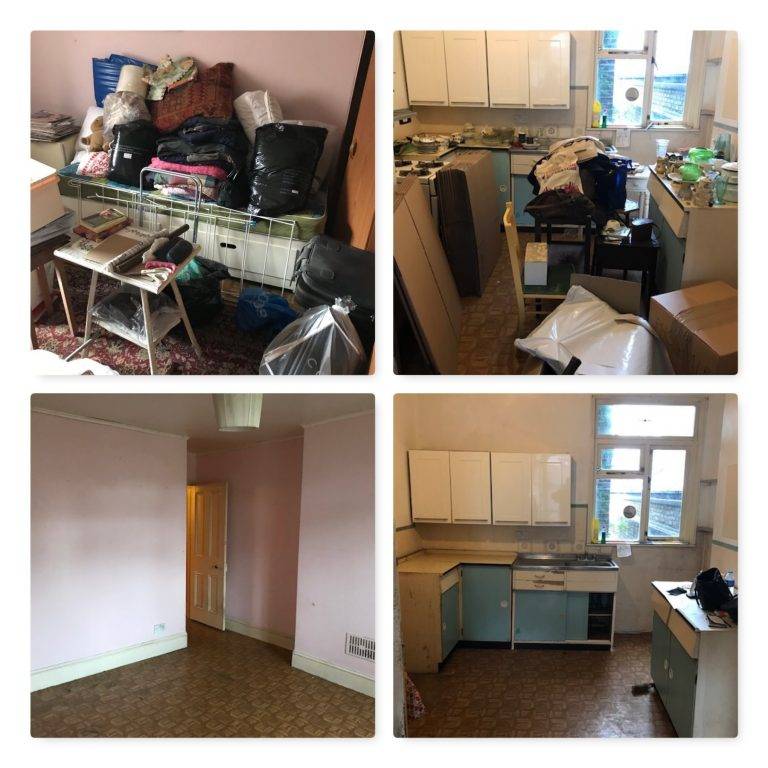 Books
TV's & Electrical Goods
and Much More……
Cost Effective House Clearance Services
House Clearance Costs can be expensive, sometimes prohibitively so. Well that was what we were told a little too frequently when there was a good deal of contents. We kept being asked if we would pay the owners rather than the other way around. It is sadly a fact that generally, we can't do that. It is simple economics. The additional costs of separating certain items and delivering them to various places in the hope of making a small profit are almost always much higher than we could possibly earn from the sales. So, we have a standard answer: "Very Sorry, but NO."
However, there was an exception just the other week. When we visited a certain house, to complete a House Clearance job, we found that it needed serious updating. Almost certainly both plumbers and electricians were going to have to replace completely what was there. But the house had some lovely furniture and a good number of ornaments and pictures. The owners were elderly and downsizing to move to more suitable accommodation. They had no children so were on their own.
This was no ordinary situation. The customers were in need of help. We made some calls and within two days the place had been visited by staff from four different auction houses. We received the sale price estimates, after all commissions had been deducted, and we knew how much we wanted to charge for this particular House Clearance.
The elderly couple were thrilled when we explained that not only could we do the job for nothing, but we would also throw in a full Garden Clearance plus best of all, pay them quite a bit more than they had originally thought they were paying us.
We worked hard and did both House and Garden Clearance for this lovely old couple. We were so pleased when they both laughed out loud as we handed them our cheque. We felt even better when we heard that they had sold the property for much more than they first expected and faster too. We really enjoyed that final day.
We would very much like to enjoy more days like that. So, if you have valuables but still want them cleared, there may well be a way of having your cake and eating it. We will always do our best. We do not have closed minds.
The last months had involved heavy negotiations and some court appearances but had left us financially secure for life. With Annabel, my wife away for a few days, I needed a change of scenery and decided to spend time exploring a part of England that I didn't know. What I really did not expect or even dream of was buying an old run-down vicarage.
But of course, that is exactly what I did. As I sat at the small window table of the little restaurant that had caught my eye the first evening, I noticed, lying on a chair, a local newspaper. It was open at an advert for a property auction of a very old Manor House, with other properties and contents. The main house was stunning, built with a moat and drawbridge. Amongst the properties were cottages, barns and an old Vicarage. Why I even bothered to read the article I cannot tell. That I then kept the paper, took it back to my hotel and reread it before falling asleep, remains a total mystery.
I decided to visit the Manor simply to breathe in the atmosphere of the place, knowing that I would never go near it again. It was still fully furnished. I had read that it had been the home of a reclusive bachelor for over sixty years. The contents were out of this world and I decided to go to the auction.
Once I'd left the big house, I still had some hours of daylight so wandered round the estate. Finally, just after four thirty I found myself at the entrance of The Old Vicarage, with its plain and simple name carved on a wooden plaque. Some unknown magnet drew me up the stairs and through the front door. As I entered, I realised what it was. This was an exact replica of the house in which I had grown up in the North East. The large staircase went straight up away from the entrance to a half landing before carrying on to the left and the upper level. There was a balustrade with rooms all around. I didn't need to look as I felt the layout from my memory.
First, I walked the three yards on the left side of the stairs to the double cupboard doors. It housed, like for my father, a bar. This made me sure. I then went upstairs. Of course, the décor and furniture were different, but the rooms were as I remembered. I had left my old home just before my seventeenth birthday and here I was in its twin just over fifty years later.
After a good night's sleep, I made my way to the saleroom, where I found a comfortable armchair at the back. The first item was the Manor House itself. I expected it to fetch millions and was very surprised that it went for less than one. Then came the contents. Antique tapestries, paintings and furniture all reached higher than expected figures. I bid for a small landscape painting, but the figure went way past my imagination, purchased in the end I believe by a Russian. After it had gone under the hammer there was a small Atkinson Grimshaw. I had once met his grandson, who could have been a great artist too but instead followed the drugs route to a very premature demise. My hand was the last to be raised and I had bid a price that would raise my Annabel's eyebrows. To compensate for this, at the end I bought four little items, which, I knew, would make her smile.
The auction total was in the millions, but tiredness and boredom began to settle among those who stayed for the sale of the other buildings. Each fetched much less than I expected. Then we came to the final lot, The Old Vicarage. There were two internet bids which had taken the price just above the quite ridiculously low reserve of eighty thousand. This edged slowly up. I am sure that it was shock, coupled with a bit of anger that kept pushing my arm up as the number remained way lower than this piece of history was worth. As the gavel came down, I felt proud that I had managed to raise the total.
"How are you paying for your purchases?"
One of the many assistants had been watching and noting all the bids.
"Oh, I'll ring my bank to arrange for an immediate transfer. Please write out the full amount and I will do it now."
Only then did it dawn on me that I had made the final bid and was now the owner of The Old Vicarage. My Bank Manager settled the bill and I left with a small but exquisite oil painting, a delicate tiny cabinet and three stunning bowls along with an envelope containing a set of keys.
As soon as I could, I went to my new property, hoping to get some clarity as to why, how, when or what. I knew that my dear creative wife would be able to bring some meaning to the place. When I had rung her, my words must have sounded strange. She liked the sound of my presents for her but I didn't mention the little oil. It was the most expensive work of art that we owned by many a country mile.
My next call was to Terry at Clearthelot. I needed him and his team to remove everything from both the house clearance and the garden. He was the most responsible man I had ever known and a friend.
As soon as they arrived, I asked them to start on the upper rooms. Soon the fresh light would bring some new life to the tired old place. I decided to keep the one bed that had clearly been only for occasional guests. Locally I was sure to find some bedding and be able to sleep in this replica of my childhood home.
On the next day they started at the back with the old ballroom, finding hidden under the shreds of old carpet a truly remarkable floor. Immediately, I knew that Annabel would argue vigorously against recarpeting. Later, they moved to the kitchen which took half a day to clear.
On the third day and with the fifth skip in the driveway we started on the stairs and hallway. The very last bit to clear was where I had started, the steps towards the cupboard bar. I left them to it and walked to the room at the front that I wanted to convert to an office. I was dreaming of what I could do with it when I heard Terry call my name.
"Francis you have to come now."
With the carpet removed, there in front of the bar cupboard was another pair of double doors but this time leading downwards. There had been no mention of a lower floor in the particulars, so I guessed that this had been hidden away well over half a century before and nobody had thought to look. With their youthful agility and strength, the two strongest boys of the team pulled up the doors. There was a stone staircase leading to darkness. Jason, the younger of the two, ran to their van for a torch. As he went down, he found a switch which produced some light. The bulbs had to be old but still had a little juice left. Jason said something that I couldn't hear but could tell that he was shocked. I was only a few steps down after him, when I could see why. We had found a cellar, cool and perfectly dry. It was the size of the whole building with an old-fashioned high ceiling. There were pillars with curved arches supporting the floors above, but it was the walls that set my heart racing. From floor to ceiling there were brick shelves.
I counted eight from top to bottom and twenty along each side wall. Each space or wine bin as I could see they were contained at least fifty or sixty bottles while on each of the columns were small hand-written papers each in its own metal frame. I looked at the first. I blew away a cobweb but could still make out the words. It read Quinta do Noval 1888; vintage port a century and a quarter old. Immediately, I wondered if it was drinkable. I pulled one out to find the label still attached. As I put the bottle back, taking care not to shake it, I realised that it was double bottle deep. Each bin held over a hundred bottles and there had to be several hundred bins.
In a state of total shock, I walked slowly round. There seemed to be two walls of port. Then there was red wine including some names I recognised. The final wall had bins of champagne, all no doubt way past their drinking dates but saleable for investment. Finally, there were several bins of the sweet white wines that fetched the highest prices. There were two columns of Chateau D'Yquem, each bin full and each bottle worth a goodly part of my newly acquired Atkinson Grimshaw.
There had been no similar cellar in the house of my youth, but I wondered if this somehow had been the unseen magnet that had made me thrust my arm up so many times. Still reeling, I went back upstairs. I settled the bill with Terry but stopped him from leaving. I went back down to collect six bottles of very old port. I am sure they were worth much more than the overall bill. but I didn't care. He was clearly grateful.
Then I was alone. Below my feet there was more money than I had spent or even could spend on the house and the items at the sale. Now I wished I had gone for the landscape as well.
I went back down to look out the youngest port I could find. It was a Fonseca 1955. It would be a sacrilege to open it too fast or drink it too soon, so I placed it on the kitchen table. After locking the house with sudden extra care, I went to the local shop for food and a bottle opener. Back home, I very carefully removed the cork. After the first dusty smell came the sense of deep fruit, smooth as velvet. I went to look for something to put it into. There, on the bottom shelf of the bar cupboard was an old ship's decanter, which I rinsed and dried as best I could before slowly pouring the deep purple liquid into it. With a light behind the bottle, I was able to stop just as I reached the sediment.
I smelt the perfume, the miracle bouquet but knew I had to wait before tasting it. I rang Annabel attempting to contain myself. To begin with she didn't switch into what I was saying but gradually her chatter ceased. Then, suddenly her excitement was matching mine. Words came rushing out,
"Don't touch it; be careful; call Sotheby's, keep some…"
After the call, I poured myself a glass. I felt like one of those really poncey wine buffs trying to show off. I took a sip. It was sweet, strong, deep and otherwise indescribable. I took another and the taste was even better. For several moments I savoured it on my tongue. My eyes were shut so I could concentrate on the senses in my mouth. I wasn't thinking about how stupid I might look as I simply didn't care. I had never known anything like this before. I ate some bread before tasting it again. It was better still. Half-way down the glass and the strength hit me. I had to drink the rest very slowly.
I rang Sotheby's and was passed to their wine expert. At first, he was cautious but gradually cottoned on. The more details I gave him the more excited he became. He asked for names and dates and I promised to let him have something later that afternoon. When I rang back, he suggested that he drive up to see me first thing in the morning. This was the sign of his enthusiasm. I put him off for three days as I wanted Annabel to see it first. When she arrived she and was as shocked as I had been.
When Robert Fitzpatrick came, he adopted a cautious approach. Annabel took him on a tour of the house, but she could tell where his interest lay. At last putting him out of his misery, we let him go to the cellar unaccompanied. He didn't come back up for almost two hours and when he did, his face was white.
"I have been in the business for a very long time and imagined that I had seen everything possible, but what you have is extraordinary and almost certainly unique. Thank you for letting me see it. The journey was most definitely worth every minute."
We had arranged a simple meal for him. It was clear that he did not expect to see a decanter on the table but nodded slowly when I poured him a small glass. He closed his eyes as he sipped. There was then a pause.
"Simply magnificent."
It took him some time to realise that we were about to deliver the contents of our cellar to him for a single sale. He could hardly believe his good fortune. He stayed talking for what seemed like hours as he gave his advice on what would still be drinkable, and therefore what I should keep for our families.
Annabel and I stayed in the house for two more days. She loved all my purchases but surprisingly the Grimshaw most of all. She didn't bat an eyelid when I told her the price. I think the potential of what was downstairs put all of that into another realm altogether.
We spent the next six months working on the house clearance. She turned it into the most perfect combination of home and office space. We half moved in, staying for over four months but we knew that we would have to let it go. When it hit the market, the ideas she had created put thousands on the price and we sold it at a very significant profit. We were both truly sad on that last day. As we closed the gate behind us, I spent an extra little moment touching the old wooden sign that carried the words The Old Vicarage.
My children and Annabel's family were overjoyed when very old wine was delivered. At home we installed a corkscrew cellar under our house filling it with over six hundred bottles personally recommended by Robert. He himself had been flattered when we insisted that he choose a couple of dozen for himself. It was of no surprise to me that he chose the wines that he had suggested to us. Finally, in a very special place we laid down twelve bottles of a wine, bottled during each of the years of our births.
Robert had arranged the wine sale with great care. Two of his most experienced assistants took three days to catalogue the collection.; another week was spent transporting it to London. The date arrived and the sale began, but he had given us no idea of his expectations. There were live feeds to Tokyo, Moscow, Paris and New York. The first part in the morning was full of raised hands and gently waving cards, of voices across the ether and of internet bids. We knew that the sale would run into three days, but we were invited into the boardroom for a drink shortly after the last bid was made that first day. One of Robert's assistants came into our gathering with a small piece of paper. He read it slowly before handing it over to me. The figure on the piece of paper had five figures before the full stop and the first number was not 1. I laughed out loud at the forty-three pence at the end.
The remaining days passed in a whirl and as expected the very best items were reserved for the end. Nothing failed to reach its target and several records were broken. We had agreed after the first evening to be kept in the dark about the total. It was bound to be awesome. At the very end he handed me a printout and pressed the button that transferred the money to our account. I stared at the figure for a long minute before turning to him.
"Thank you."
I couldn't say anything else. He nodded before shaking my hand. He then turned to Annabel and kissed her on both cheeks. I had the impression that he enjoyed that part of it more.
I still have that printout and look at it most days in its frame on my desk. It is simply a figure with no words. £1,073,247.89. When I see it, I pause. I think of Terry and his team at Clearthelot, without whom the bottles would have remained buried. I remain grateful to him and I still smile at his shock when I handed him the very large bonus he so definitely deserved.