Are you thinking of employing the services of a house clearance company? Consider the following issues before proceeding. Clear The Lot is a UK based private rubbish management firm. We undertake house clearances daily; here are some pointers on how to prepare for one.
What Is A House Clearance Service?
A house clearance is a process of removing and discarding unwanted objects from a home (house, apartment, flat, and studio). You may require the services of a house clearance firm for a variety of reasons.
Why You Need a House Clearance
Your tenants have moved out, leaving a mess of furniture, clothing, and trash.
A member of your family has died tragically, and you are the legal executor charged with selling the house.
Perhaps you're relocating to another country and can't ship all of your possessions.
Relocating to a smaller home
Below is our step-by-step guide on preparing a house clearance.
Depending on the circumstances, full home removals can be difficult, emotional, and draining. Prioritize and concentrate on the most important tasks first.
If you can't get rid of your furniture, personal belongings, or sentimental items before the house clearance date, we propose setting aside a room for all of the goods you want to keep. Alternatively, put the smaller items in a box and use Post-it notes to keep the larger objects.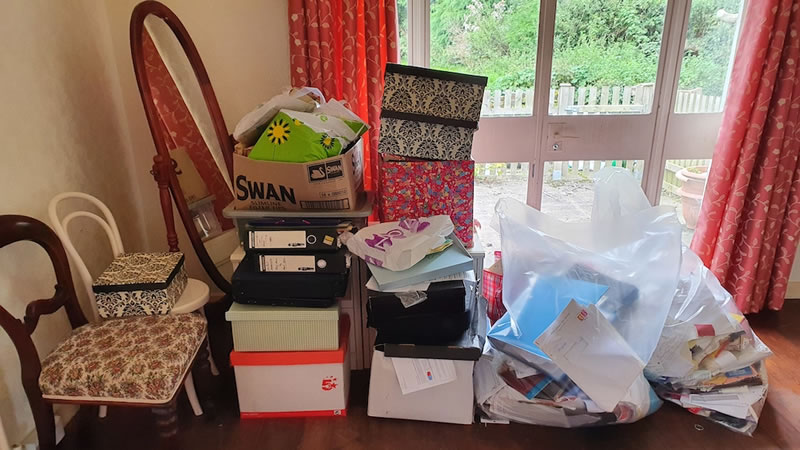 It may be impossible to move big goods from one room to another. We ask that our clients use Post-it notes to label whatever they want to keep. On the day of the house clearance, this simple approach helps us distinguish between wanted and unwanted goods.
Another useful technique for preparing for house clearance is to photograph any items you want to save. Send the photos (to-keep things) to the house clearance business in advance.
For a successful, stress-free house clearance, follow our Step by Step Guide below.
Step 1: Collect all Sentimental Items
Remove any sentimental artifacts, as well as anything that evokes an emotion or a memory (photos, jewelry, gifts, furniture, and clothing). During a house clearance, sentimental items can be little and missed. Remove or label these objects if possible (keep).
Any personal, sentimental, or secret documentation is always set aside for family members.
Step 2: Donate to Local Charities
You might be able to donate some of your furnishings to a local charity. Always verify ahead of time because, owing to COVID, most charitable groups are quite busy and may take several weeks to collect your stuff.
Step 3: Distributing Items among Family Members
It's a good idea to consult with family before hiring a house clearance firm to plan your clearance. Ensure that the only items remaining are those that must be removed and disposed of. House clearing prices are calculated based on volume and weight; giving and distributing reduces volume, weight, and cost.
Step 4: Sell or Auction Your Items
If you have the time, you may be able to sell or auction certain goods before the house clearance.
Clear The Lot works closely with Lagan side Auctions in Belfast and will assist you with moving things to auction if necessary. If you live in another nation and need to schedule a house clearance remotely, this may be handy.
Step 5: Secure Storage
You may require the removal of undesired objects as well as the temporary storage of other stuff. Make sure the house clearing firm provides this service and knows where the storage facility is.
Step 6: Research Your Clearance Company
Do your homework before hiring a house clearance firm. A fee may be imposed if your rubbish is illegally tipped by an unauthorized company. Always make sure the house clearance company has the following: 1) a valid waste carriers license, 2) public liability insurance, and 3) a current website. 4) Positive feedback.
Where does the garbage go? Without a pass, commercial garbage is forbidden from local recycling sites in Northern Ireland. Use the services of a reputable house clearance business; we will pay to dispose of rubbish and recycle up to 80% of the waste we collect.
Do House Clearance Companies Clear Everything
This is a frequently asked question: do you remove (fridges, beds, wardrobes, etc.)? The objects we remove as part of our house clearance service are listed below in detail.
Beds, Frames, Mattresses, Bedding, Wardrobes, Clothing, Chest of Drawers, Sofas, Tables, Chairs, Cupboard Contents, Washing Machines, Dishwashers, Cookers, Small Electrical Appliances, Computers, Printers, Televisions, Books, CDs, Records, Carpets, Display Cabinets, Garden Furniture, Tools, Paint, Sheds, Bicycles, Oil Tanks, Asbestos
Contact Clear The Lot Today
Need to book a house clearance? Contact Clear The Lot on 0203 323 0017or emails info@clearthelot.com.